Arts and Crafts in Shinn Park
Come one, come all!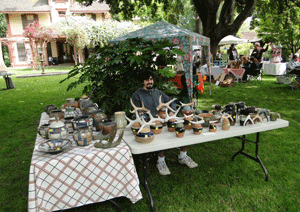 Sunday, September 18, 2016
10AM to 4PM
1251 Peralta Boulevard, near Mowry in Fremont
The 15th Annual Arts & Crafts in Shinn Park will be held on Sunday, September 18, 2016 from 10 AM to 4 PM. Admission to the beautiful gardens of the historic Shinn house in Fremont is free to the public. During the day local artists will display, demonstrate and sell their art work, while historical organizations will be happy to tell you something about their work and challenge you to identify an historic object. Historic crafts and skills of the past will be on display, and some will be available for purchase. There will be musicians to entertain you, while food, drinks and docent-led house tours will be available at a reasonable price.
In addition, this year we are offering something special for the youngsters. First of all, the Shinn house is one of the nine local Passport to Adventure sites generating quite a bit of traffic on Facebook and other social media. For more about the Passport to Adventure program, see the Museum of Local History – Passport to Adventure page. Also, for the first time this year, we are offering a hands on STEAM project! STEAM stands for Science, Technology, Engineering, Arts and Math, and STEAM project goals are to encourage youngsters to learn about the world around them by engaging in hands-on and entertaining experiments. At this event, participants will be making "silly putty" using common ingredients, learning about the chemistry involved in creating this gel, and will be taking their creation home with them.
There will be soft drinks and food available from 12 noon until we run out of food. The docent led house tours will begin at Noon with the last tour at 3:30 PM. The Museum of Local History will have some historical artifacts that you will have an opportunity to discover their purpose from years gone by.
This is a beautiful park and we encourage you to bring your camera so that you can take pictures of the gardens and during tours of the house. Many photographers have found this park to be an ideal site for children and wedding photographs. Entry to the grounds including all of the artists and craft areas as well as all of the gardens is FREE.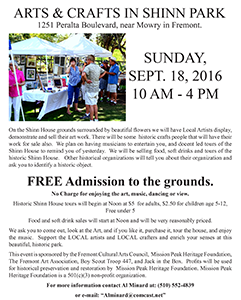 \The Artists and Crafters are all local to this area so most of the money they get will go back into the local community. Remember it is only a few months away from Christmas and this event provides a wonderful opportunity to purchase that beautiful item for one of your friends that is truly one of a kind.
There is still some space available for a few more artists or crafters, so if you would like to enter this event or have additional questions contact Al Minard at alminard@comcast.net, or go to the Fremont Cultural Arts Council Website at www.fremontculturalartscouncil.org, for rules and an application.
This event is sponsored by the Fremont Cultural Arts Council and Mission Peak Heritage Foundation. The Boy scouts of troop 447 will assist with parking. Jack in the Box at Mission Valley Shopping center is providing lunches for the early Boy Scouts. The money raised from food sales and tours will be used to maintain the Historic Shinn House.
We look forward to seeing you in the Shinn Historical Park and Arboretum on Sunday, September 18, 2016 between the hours of 10 AM and 4 PM.
For more information contact Al Minard at: (510) 552-4839 or e-mail: Alminard@comcast.net