The 20th and final Young Artists Showcase was held on Sunday, May 6th, 2007 at Ohlone College Smith Center for the Fine and Performing Arts. This was the last year of this outstanding annual event, supported by the Fremont Cultural Arts Council for two decades and providing hundreds of young amateur performers, ensembles, groups, artists and photographers in our community with the opportunity to experience competitive auditions and to perform on a professional stage in front of an appreciative audience.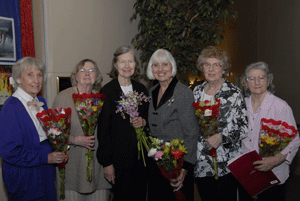 We thank our dedicated volunteers for their dedication and hard work over many years. Although many others have contributed over the years, we especially wish to thank (from the left)  Mary Alice van Doorn, Bev Rose, Anne MacLeod, Mary Wolfe, Doris Green, Marie Matthews.
2007 YAS Showcase Winners (in order of appearance)
Marie Lu – piano solo, Nos. 1, 2, 4 & 6 from Six Preludes, Robert Muczynski
Lily & Monica Tang – vocal duet, "One Song"
Lulu Shu – piano solo, Ballade, Op. 47, No. 3, Frederic Chopin
Group Dance – Indian classical dance, "Thillana"
Group Dance – lyrical dance, "Candle on the Water"
Shannia Fu – piano solo, "The Little White Donkey", Jacques Ibert
Lance Smith – vocal solo, "Caro mia ben", Giuseppe Giordani
Sharon Tseung – piano solo, Pour Les Octaves, Claude Debussy
Athira Pratap – indian dance, "Attin Kara"
Group Dance – lyrical dance, "Sisters"
Zoe Lu – piano solo, Basso Ostinato, Rodion Schtschedrin
Lily Tang – vocal solo, "Flying Free"
Gus Lin and Jonathan Shao – piano duet, Pas Espagnol, Gavriel Fauré
Venus Shih – jazz dance solo "All That Jazz"
Dance Group – hip hop dance, "3 P.M."
Gayathri and Rajeshwari Ramanathan – vocal duet, "Pannirukaiya"
Group Dance – semi-classical Indian dance, "Thira Nurayum"
Rina Li – piano solo, "Lotus Land", Scott
Patty Chao – piano solo, Der Jongleur, Op 31, No. 3, Ernst Toch
The program closed with a solo performance by Kristen Del Rio, former YAS winner
Congratulations are also in order for the young winners of the Photography and Visual Arts section of the Young Artists Showcase
Photography – Jordan Bickett
Visual Arts – Adrian Chen, Athena Chow, Liang-Kuan Lee, Kaitlyn Shih, and May Wang
Honorable Mention awards went to:
Dance: Emma Li, Mallika Malleswaran, Anna Weideman
Instrumental: Rina Li and Patricia Ho, Zoe Lu and Rose Lu, Sharon Su, Melody Sun
Photography: Jordan Bickett, William Hsu
Visual Arts: Aditya Anand, Ariana Chini, Alison Fang, Viridiana Gracida, Shubna Jagannatha, Supriya Kazi, Jenny Lu, Namrita Nigam, Anna Paula Sedano, Rajeshwari Srikantan
Introductions: Alicia Marsella
Presentation of Scholarship Awards: Margaret Thornberry, President Cultural Arts Council and Mary Wolfe, Committee Chairman, Young Artists Showcase
Acknowledgments
Without these sponsors and contributors, this event would not have been possible:
Special thanks:
– for financial support:
Organizations: Country Club of Washington Township, Music Teachers Association, Nile Rotary, Olive Hyde Art Guild
Individuals: Alvin Dockter, Mary Wolfe, Corrine Young
– for special help and cooperation:
Steve Lacy, Spotlight
Caryl Dockter, Typesetting
Arathi Satish, Publicity
Dr. John Randall
– for the use of their facilities:
Irvington Presbyterian Church, Pastor Michael Boyland
Ohlone College, Christopher Booras, Adam Fresquez
City of Fremont, Centerville Community Center
Special recognition and thanks:
– to Ohlone TV and Arnie Loleng for videotaping and showing the 20th Annual Young Artists Showcase on Ohlone TV Channel 28 on May 11, 12 and 13
Congratulations:
– to all the performers and visual artists, and to the supportive parents and fine teachers who have helped to nurture the talents of these young people.
Judges
Vocal: Kristen Del Rio, Karen McCutcheon, Glenad Squires
Instrumental: Carmencita Aspiras, Dan Chakin, Catherine O'Connor, Loan Nguyen
Dance: Joan Cauldwell, Anne Schreiber
Photography: Alvin Dockter, Ian Bornorth
Visual Arts: Beth Booth, Norman Hodgson, Peter Jacobsohn
Young Artists Showcase Committee: Doris Green, Anne MacLeod, Marie Matthews, Beverly Rose, Mary Alice van Doorn, and Mary Nell Wolfe, Chairman.