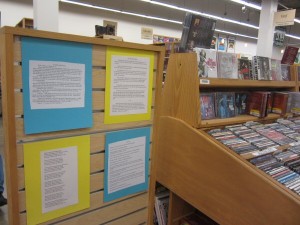 The 2019 Flash Fiction Contest, co-sponsored by the Fremont Cultural Arts Council and Half–Price Books, was held on Saturday, October 19, 2019. Here are the results.
A sincere thank you to all who submitted stories and to those who voted!
The Big One
by Jan Salinas
First Place ($75 cash)
I wasn't scared until it happened. This was the real one. The one they'd been warning us about for so long – not the if but the when.
The shower door seemed buckled until I gave it a body check. I grabbed a towel, wrapped it around me, and staggered toward the bedroom, sliding across the wet floor in my bare feet.
The crash of glass startled me. The living room television that sat on the spindly brackets must have fallen. I'd been meaning to secure it to the wall and even found the brackets in the garage last week.
With my pants in hand, I tripped down the hall, hoping to pull them on, one leg at a time, as I bounced from wall to wall like a yo-yo. My wallet, still in my pants pocket, had exactly $37 in it. And I wasn't sure if my car had more than a quarter of a tank in gas. I meant to give my kids the contact number in Chicago. I thought about it a hundred times.
With car keys in hand, I grabbed my quivering, whining terrier, Jumper, and rushed outside. Once inside my car, the car radio reported a magnitude 8.0 earthquake had rattled Northern California. It struck at 6:58 a.m. near Fremont, California.
I couldn't wait for details. I knew where to go. The sirens wailed as I drove with caution. There on the side of the mountain under the sign, "Niles", the half dome metal pits sat against the hill in alphabetical order for evacuees. I spotted the designated "J" pit and flew out of the car with Jumper in my arms, and ran toward them.
"Jenny, Josh – Am I happy to see you! Thank goodness for this evacuation put."
Fremont: The Boom Town
by Aadhav Rajesh
Second Place ($65 cash)
On January 24, 1848, James Wilson Marshall, discovered flakes of gold at Quarry Lakes in Fremont, CA. San Franciscans sailed across and helped blaze the trail that is now known as I-880. Cities sprung up all around Fremont with businesses seeking to profit off the Gold Rush. Due to the economic loss faced from shipping to both San Francisco and Fremont, the ports at San Francisco became obsolete. Many historians say that California's admission into the Union was due to Fremont's economic expansion. Finally, in 1879 at the Fremont Constitutional Convention, Fremont became the capital of California.
In the Early 20th century, both the east and west coast faced obstacles: The collapse of Wall Street and the 1906 SF Earthquake. San Francisco wasn't able to recover until the late 20th century, but luckily the economy remained stable because of Fremont and Wells Fargo. The mismanaged Fed caused the breakdown of Wall Street. Many of the employers at banks on Wall Street ended up getting positions in Niles at Wells Fargo. After World War 2, New York was able to recover but Wall Street would never reach the peak it was during its glory days.
In Niles after Wells Fargo's success, other bankers tried to start their banks. Some of the more notable ones were Shinn Bank, founded by the Shinn Family, and Patterson National Bank founded by the Patterson family. During this time, William Shockley moved to the Mission district because of the high number of investors. Shockley invented the silicon transistor and would create to Silicon Tri-City. Shockley's employees founded start-ups and accepted seed money from banks looking for investments. This mutualistic relationship between startups and young banks fueled the wildfire of economic success in Fremont that continues to rage on into the 21st century.
Last Humans
by Stephanie Gertsch
Third Place Tie ($25 cash and a $25 gift card)
When Ursula saw "Last Humans Gathering" in the community newsletter, she thought it sounded a bit PC. She had studied actual history—how their fore-pods founded Fremont on the principles of the eight-fold path for the benefit of all Octopus-kind. But the girls needed extra history credit, so that Saturday she headed over to the Landlife Preserve with Octavia, Ophelia, and her youngest, Bobby. Bobby could only find seven of his socks, so by the time Ursula grabbed her keys with one hand, purse with the other, map with the other, sunglasses with the other, and water bottles with the other, they were already running late.
It was hard to imagine that a mere 100 years ago there had been no octopuses here at all, but only a barren expanse of dry grass and concrete, devoid of modern ocean amenities and anemones. At the human island, an energetic sea otter acted as interpretive guide, calling "Ok, guys! Are you ready to meet some people?" The octo-kids cheered and clapped six of eight arms with a squelchy popping.
There were about 50 real humans gathered near the beach—a great turnout, apparently. All were decked out in quaint traditional garments like "Tea-shirts" and "Kroks." Octavia admired the "fedora" headdress, and Ophelia correctly identified the "SF Giants" symbol as a tribute to ancient warriors.
After the octo-kids settled down, one human sang "Blank Space" by Taylor Swift, a moving and authentic human ballad. Another demonstrated how to make "plastic straws" out of dried kelp. To conclude the presentation, humans roasted wild "smores" dishes over a bonfire. To Ursula's embarrassment, her kids were the only ones to spit out blobs of sticky marshmallow in disgust and beg for sashimi on the way home.
Livin' Large
by Richard Lau
Third Place Tie ($25 cash and a $25 gift card)
Reubin Burke was in no mood for the morning rush hour back-up. Not today. Not in his brand new Ford F150 pick-up. The vehicle was a beast, an almost three-ton monster, whose 5.0 L v8 engine and 36-gallon belly growled to be unleashed. Though over six-foot tall, Burke felt small in the roomy cab but gigantically powerful.
Ahead, other vehicles lined up on the stretch of 680 that curved upward in a narrow two-lane ramp above an outstretched arm of the expanded Don Edwards National Wildlife Refuge. As usual, they were at a stand-still in both directions, single-file herd animals content to graze on the tarmac.
But not Burke's monster truck, and its bottomless hunger to devour miles.
With little hesitation and even less remorse, Burke swerved onto the dirt shoulder, kicking up debris into the shocked expressions of the other drivers. He harmlessly passed through a forcefield meant to keep the refuge's residents inside, not to keep intruders out.
His plan: rush through this splinter of the refuge and take the official exit road to meet up with the freeway on the other side of the congested bottleneck. "Livin' large!" he hooted.
Suddenly, the tall reeds, parting before the bumper like tissue streamers, revealed a mottled gray wall.
"What…" thought Burke, a moment before the crash.
His seatbelt and the truck's air bags kept him from slamming through the windshield, but the truck's front end seemed to melt like hot butter, compacting itself by three feet.
Burke found himself confronting an even bigger monster than his vehicle, something that outweighed his now seemingly toy truck by nine tons.
And it looked annoyed.
The dinosaurs, like the 26,000-pound triceratops before him, had lived in the area long before incorporated Fremont and puny trucks. And a few still did.
No Fourth Place award given due to Third Place tie
A Small Margin of Votes
by Jeffery Haran
Fifth Place ($10 cash and $25 gift card)
The old man prepared his dinner by his campfire at the mouth of the train tunnel in what used to be called Niles Canyon. It was not a warm or comfortable place but it was dry when it rained and as he hadn't seen an intact building since he was a boy, it was his long time home.
He looked down at the rusty, metal dog tag that hung from his neck. It was imprinted with his name and a street address of what he thought was once his parents' house. It had been given to him by his first grade teacher just after his sixth birthday in mid-October 1962. He'd had enough school by then that he could read that much.
He recalled that day a few days later when his father had pried the steel cover off the manhole in front that house and lowered him along with bottles of water, bread, peanut butter and a little box called a "geiger counter". "Don't come out until that box stops clicking!", his father had shouted as he lowered the cover over the hole. Tears had streamed from his mother's eyes.
The box didn't click much at first, but then the booms, the fire and the screams had come and the clicks quickly followed. His supplies lasted a short while, but he soon learned to drink the dirty water at the bottom of the hole and catch and eat the rats that feasted on the human remains above that followed.
The old man never learned that the recently elected President Nixon had believed his generals when they told him they could win a nuclear exchange with the Russians.
The old man returned to preparing his dinner. He was good at cooking rat.
We're Watching
by Shirley Ferrante
Sixth Place ($25 gift card)
I grew up in the California town of Fremont. It was a marvel to me that Fremont maintained its rural charm and friendly population of 43,000 while the orchards and open lands disappeared from surrounding communities. In my youth I overheard Mom and Grandma discuss the need to preserve our grasslands or there would be dire consequences. When I asked Mom, our Mayor, why Fremont was blessed with open lands, she would put me off with "It's our way dear."
The day came when I gave in to curiosity and asked my 95-year-old Grandma who had also been Mayor.
"Oh honey, I knew this day would come." Grandma then told me a strange story. "You know those clouds that often sit over Mission Peak? The surrounding sky is so blue and clear, so, why clouds only on the peak?"
"What are you saying Grandma? The clouds aren't real?"
"No dear, I suggested to my friends, we were being observed. They accused me of having a Trekkie imagination. Sorry dear, it was a 1966 Science Fiction TV show whose fans were called Trekkies.
Well, one spring day in 1966 as I hiked Mission Peak, a strange thing happened. A shimmering light started to take shape just below the peak. I thought I had a sun stroke and gulped down my water. Gradually, a strange man appeared. He told me the sad story of his planet. Poor planning had depleted all the grasslands. He promised if we provided grazing land for their planet's cattle he could protect us from land developers."
"Ah, your out of town buyers?"
"Yes, it was up to me to do what was necessary. I ran for mayor and implemented our open land policy. He returned with their cattle and his parting words were 'We're watching.'"