25th Annual Juried Photography Exhibit – 2019
The 25th Annual Juried Photography Exhibit reception will be held on Saturday, March 16, from 6:30-8:30 pm, at the Fremont Main Library, 2nd floor, 2400 Stevenson. This event is free to the general public, and attendees can vote for their favorite photo for the 'People's Choice' award. Light refreshments will be served. Photos will be on display at the library through Saturday, April 13.
This annual juried show is open to all photographers who are Fremont residents, students, employees, members of the FCAC or of the Fremont Photographic Society. Images submitted may be manipulated but all image contents must be the creation of the photographer and the image must be primarily photographic in nature, and acceptable for general viewing. The panel of judges will determine acceptability.
Photographs may be submitted for judging at the Fremont Cultural Arts Council office, 3375 Country Drive, Fremont CA 94538 on Saturday February 23, from 10 am – 4 pm and Sunday, February 24 from 1-5 pm. Judges will base their decisions on Artistic Merit, Originality, Difficulty and Technical Aspects, and decision of the judges is final.
All prints, color or black and white (including digital), must be at least 5″ x 7″ (with frames no smaller than 8″ x 10″) and must not be larger than 16″ x 20″ (with frames no larger than 20″ x 24″). Prints must be framed, under glass or acrylic, and ready for hanging with wire on back (no sawtooth hangers!); eye screws must not protrude beyond the frame back. To reduce weight, frames larger than 16″ x 20″ should be covered with acrylic, not glass. No slides or digital files will be accepted. Each photographer can submit up to 5 prints.
Entry and Registration forms in .pdf format:
New this year: we have provided an editable PDF form that you can use to create the labels that must be placed on each photo.
Download this label form to your computer.
Open the form in Adobe Acrobat.
Complete your personal/contact information for your photographs – note that after entering the information for the first photograph, the form will auto-fill your personal contact information into the others.
Input the titles separately for each photograph to be submitted.
Save the file for your records
Print a copy and attach labels to each framed photo. Cut out each label along the solid lines.  Do not cut the dotted lines. Tape each label in the center of the back of the frame, with tape only at the top of the label as shown below.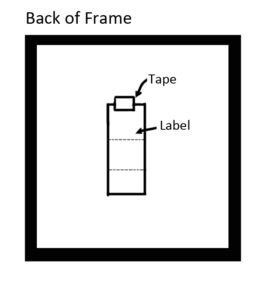 These forms are also available at the FCAC office, 3375 Country Drive, from 11 am to 2 pm weekdays, and at the Fremont Main Library during regular business hours. For more information, please contact Exhibit Chairman Gregory Smith at (510) 828-2893 or fcacphotoshow@gmail.com.